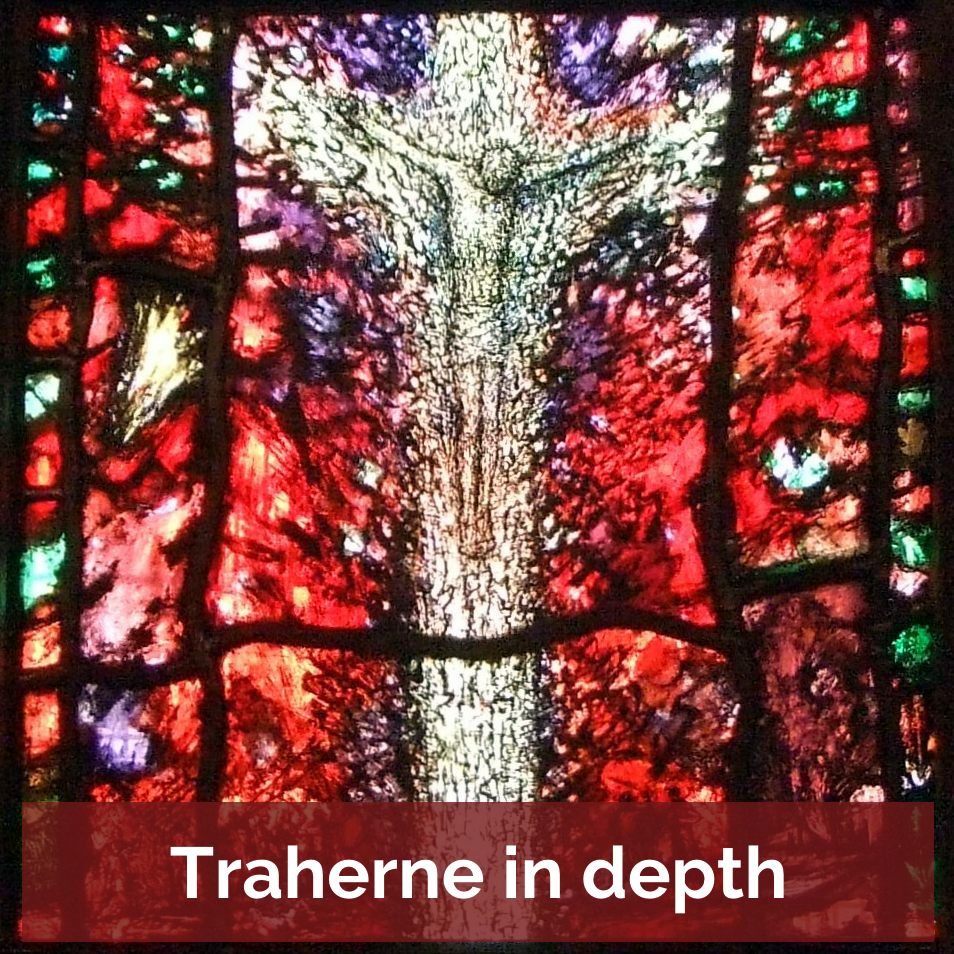 Traherne's Writings
Because many of Traherne's writings have only survived in manuscript form it is not possible to date them with confidence, and so they are listed here in their eventual order of publication. (This information can be useful when assessing books written about Traherne before all his works had been discovered.)
The only work to be published in Traherne's lifetime was Roman Forgeries (1673), an attack on the validity of the authorities quoted by the Roman Catholic church in its claim to be the only true church. This title is available in facsimile, but there is now a modern edition available in volume 7 of The Works of Thomas Traherne , ed. Jan Ross (D. S. Brewer, 2022).
The following year Traherne finished his last work Christian Ethicks: The Way to Blessedness and it was published posthumously in 1675. An edition of this with modernised spelling and punctuation was published by Margaret Bottrall in 1962 (London: Faith Press) and an academic edition by Carol L. Marks and George Robert Guffey in 1968 (Ithaca: Cornell University Press). It is now also available in volume 7 of The Works of Thomas Traherne, ed. Jan Ross (D. S. Brewer, 2022).
After this the work usually known as Thanksgivings was published anonymously in 1699 under the title A Serious and Pathetical Contemplation of the Mercies of God. This title can be found in volume 4 of The Works of Thomas Traherne, ed. Jan Ross (D. S. Brewer, 2009). An earlier modern edition appears in volume 2 of Thomas Traherne: Centuries, Poems and Thanksgivings , ed. H. M. Margoliouth (Oxford: Clarendon Press, 1958).
And then in the late nineteenth century, nearly 200 years after the publication of A Serious and Pathetical Contemplation, two manuscripts were found on London bookstalls: some of Traherne's poems and a series of prose meditations divided into sections of a hundred. The poems were published as The Poetical Works in 1903 by Bertram Dobell, who then published the prose work in 1908 under the title Centuries of Meditations. A second version of many of the poems, seemingly prepared for publication by Traherne's brother Philip, was then identified in the British Museum. This latter version of the poems, which included various poems not in the earlier volume, was published by H. I. Bell in 1910 as The Poems of Felicity. Centuries of Meditations appears in volume 5 (2013) and both poetry sequences appear in volume 6 (2014) of The Works of Thomas Traherne , ed. Jan Ross (D. S. Brewer, 2005 - ).
Select Meditations was almost certainly written at the end of the Commonwealth when Traherne was in his twenties, and had just become Rector of St Mary's Church Credenhill (1657-74). It includes reflections on the problems confronting the ecclesiastical settlement of the Restoration England (1660). The handwritten book, found in Birmingham in 1964, was edited by Julia Smith and published in 1997. It can also be found in volume 5 of The Works of Thomas Traherne , ed. Jan Ross (D. S. Brewer, 2013)
In 1997 two further discoveries were made. One was of five previously unknown works found by Jeremy Maule in Lambeth Palace Library; these were edited by Jan Ross and published in 2005 as the first volume of The Works of Thomas Traherne. One of these five works, The Kingdom of God, is arguably Traherne's magnum opus. The others are Inducements to Retiredness, A Sober View of Dr Twisses his Considerations, Seeds of Eternity or the Nature of the Soul and a fragment with the editorial title 'Love'. All of these titles appear in volume 1 of The Works of Thomas Traherne, ed. Jan Ross (D. S. Brewer, 2005)
Prior to this in about 1967 another manuscript had been rescued from a fire on a Wigan rubbish tip by a man looking for car parts. This was Commentaries of Heaven, a kind of Christian encyclopaedia. It was not identified as Traherne's until 1981 and was finally published in 2007, as volumes 2 and 3 of The Works of Thomas Traherne , edited by Jan Ross. In 2009 The Church's Year-Book was published as Volume 4 of the same edition together with A Serious and Pathetical Contemplation (see above) and a doubtful work, Meditations on the Creation. In preparing the Year-Book Traherne drew on a wide range of sources. It covers church festivals from Easter to All Saints' Day (but with the pages for Trinity cut out). If there was a second book covering the rest of the Christian year, it has yet to be found.
The other discovery of 1997 was at the Folger Library in Washington DC. Here Julia Smith and Laetitia Yeandle identified as Traherne's a poem of about 1800 lines based on Genesis and Exodus and called The Ceremonial Law, which was finally published in 2014 in volume 6 of The Works. Traherne's notebooks, edited by Jacob Blevins, are also due to be published as part of The Works.
(For fuller details of the discovery of Traherne's writings see Julia Smith, 'Thomas Traherne' in the on-line Oxford Dictionary of National Biography, 2004-13, and Denise Inge, Happiness and Holiness, Thomas Traherne and his Writings, pages 18-49, (Canterbury Press Norwich, 2008), to both of which the above account is indebted. For further editions see Reading Lists.)