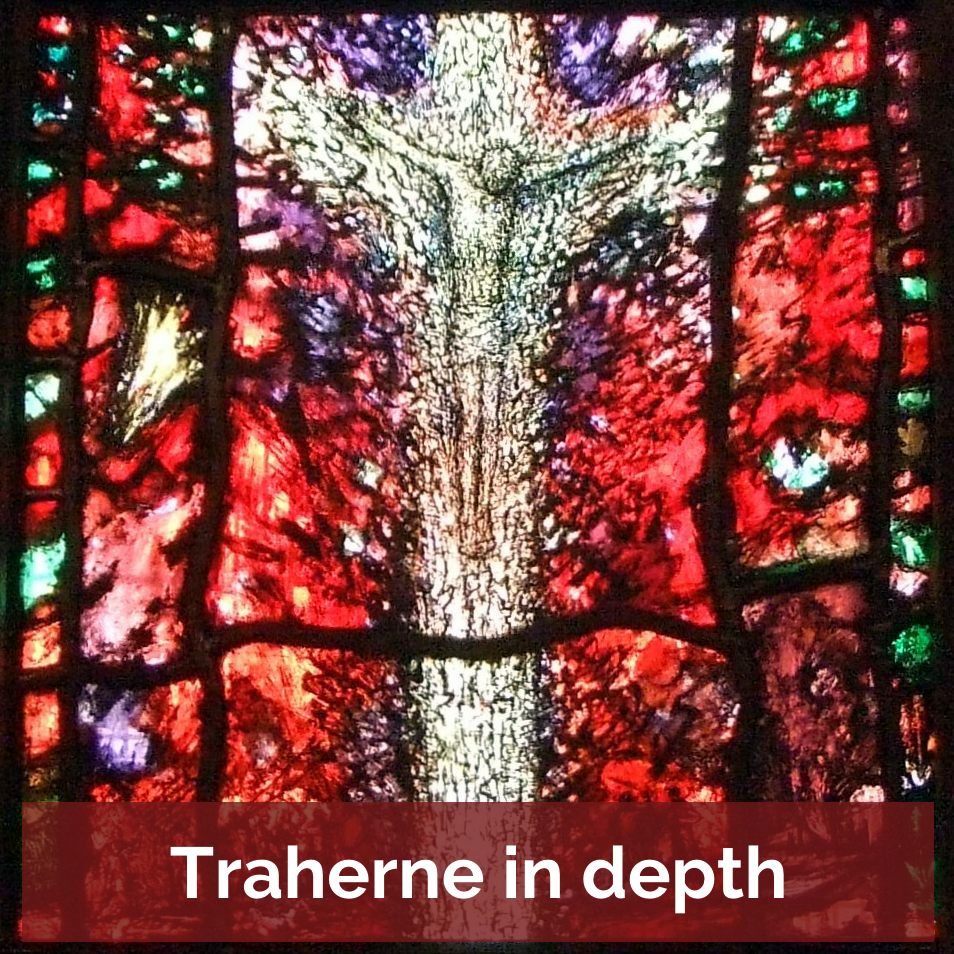 EACH JUBILANT CHORD
Musical settings of Thomas Traherne
Gerald Finzi (1901-1956)
Dies Natalis– Cantata for soprano or tenor and string orchestra
Intrada
1. Rhapsody
2. The Rapture
3. Wonder
4. The Salutation
This was a Three Choirs Hereford commission in 1939, but the first performance was postponed owing to the declaration of World War II.

See The Gramophone magazine December 2011 for a detailed article about Dies Natalis by Jeremy Dibble, Professor of Music, Durham University.
Recorded:
1. September 1963: English Chamber Orchestra with Wilfred Brown (tenor) conducted by Christopher Finzi (son of the composer). This is perhaps the best known of all Traherne musical settings and is superbly performed; EMI CDM 7 63372-2. / World Record Club SCM 50 (HMV HQS 1260) / EMI Classics 5 655882

2. 2008: Bournemouth Symphony Orchestra with James Gilchrist (who sang this work at Hereford Three Choirs Festival 2006) conducted by David Hill; Naxos 8.570417

3. 2008: Scottish Ensemble /Jonathan Morton with Toby Spence (tenor); Wigmore Hall Live series WHLIVE0021

4. 1997: Bournemouth Symphony Orchestra conducted by Vernon Handley with Rebecca Evans (soprano); Conifer Classics 75605

5. 2010: BBC Symphony Orchestra conducted by Edward Gardner with Susan Gritton; CHAN10590 (includes Britten's Les illuminations and Delius A Late Lark).

6. October, 1946: Joan Cross with Boyd Neel Orchestra conducted by Boyd Neel; released 1979 as LP ECM 824

7. DECCA 1645 - 47 (One of a number of English songs from 78s). There is a 55 sec "snatch" from Dies Natalis on the internet (with Joan Cross probably taken from the 1946 performance above; Finzi is said to have been unhappy regarding the choice of soloist because she had an operatic voice – and was associated with Benjamin Britten)

8. Britten Sinfonia directed by Jacqueline Shave with Mark Padmore (tenor); Harmonia Mundi HMU 807552 + Britten – Serenade for Tenor, Horn and Strings; Nocturne

9. Corydon Orchestra conducted by Mathew Best with John Mark Ainsley (tenor); Hyperion CDA 66876

10. 1978: LSO conducted by Richard Hickox with Philip Langridge (tenor); Decca 468 807-2

11. June 1996, issued 1997: Academy of St. Martin in the Field conducted by Neville Mariner with Ian Bostridge (tenor); Philips 454 438-2

12. September 1987 (released 1988): City of London Sinfonia conducted by Richard Hickox with Martyn Hill (tenor); Virgin Classics 7 90718-2

13. June 1999 (released 2000): Manitoba Chamber Orchestra conducted by Simon Stratfield with Valdine Anderson (soprano); CBC Records SMCD 5204

14. 1996: Kristiansand Chamber Orchestra conducted by Stephan Barrett-Due with Linda Ǿvrebǿ; Lynor label 9616. (May be available on Amazon as MP3 download.)

15. Janeanne Houston (soprano) has recorded the four vocal movements of Dies Natalis, one with string accompaniment and three using Finzi's piano reduction but using two separate pianists! The end result is one soprano, two scores, three accompaniments and the whole issued on three CDs over three years by Elmgrove Productions (no catalogue numbers)

16. Robert Gower has recorded the Intrada (only) on the organ of Hereford Cathedral, which is available on Priory PRCD 591.

(NOTE there are believed to be other recordings of this work details – do send us details)
To a Poet– Op 13a - Tenor and piano
# 3. - Intrada ('An empty book is like an infant's soul')
Published: circa 1965 (posthumously)
Recorded:
1.February, 1981: Stephen Roberts (baritone) with Clifford Benson (piano); Hyperion CDA 66015; reissued as CDH 55084 ("Songs by Finzi & His Friends").

2. 2006: Roderick Williams (baritone) with Iain Burnside (piano) on "Earth, Air and Rain; To a Poet; By Footpath and Stile", Naxos 8.557963.

3. Brett Polegato (baritone) with Iain Burnside (piano); CBC Records MVCD 1134.
Two motets: # 2– 'The Recovery' ('Sin ! Wilt thou vanquish me')
Published: 1923 (work withdrawn)