In memoriam Donald Allchin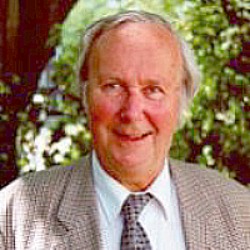 In the summer of 1990 I noticed in the Church Times an advertisement for a conference at Ammerdown near Bristol. That it was to be led by Donald Allchin got me thinking.
In 1942 when my Mother was bearing me, Donald heard about me from his Aunt, who lived two doors away from us in Ealing, London. Twenty years on I was clearly following in his footsteps, having been to the same schools and the same Oxford college, ChristChurch. And at Oxford from 1962-6 he invited me to lunch at Pusey House where he was Librarian. And then our paths parted. Until we met again nearly 25 years later. And his Ammerdown conference was entitled 'Thomas Traherne'.
That weekend changed my life. I had come across Traherne's Centuries of Meditations not at Oxford (there I had never even heard of him) but in the SPCK shop in Nottingham in 1979. I had been consumed by it and sometimes used to quote it in my south Cambridgeshire parishes. But to hear Donald talking about the wideness of Traherne's thinking was mind-blowing. If only all the Archbishops and Bishops of the Church of England had been there. Towards the end Donald came up to me and said: 'Richard, we must do something to bring Traherne properly to the surface.' Out of our conversation was born Traherne's first Festival based at his parish of Credenhill. I asked Donald when it ought to be. And he replied 'it must be on Trinity Sunday. God's Trinity is the heart of his writing.' And there he was, on Trinity Sunday 1991, in Credenhill Church, Herefordshire. And on Trinity Sundays over nearly 20 years. His guidance for the programmes was unforgettable.
He was for me the heart of kindness. I close with a passage from his chapter in 'Profitable Wonders: Aspects of Traherne, by A. M. Allchin, Anne Ridler and Julia Smith, The Amate Press, 1989.' I still regard this as an unrivalled study of Traherne.
Richard Birt
I have tried to show in this essay how Traherne the poet, the man of a piercing and singular vision, is also Traherne the priest, the celebrant of the Church's liturgy, who offers up with all God's people, 'the sacrifice of praise and thanksgiving'. Thomas Merton in his tantalisingly brief comments on Traherne speaks of how when reading him 'we must penetrate immediately to the central intuition, a basic Eucharistic and primitive Christian theology of praise'. He goes on to quote some sentences from the 76th of the Second Century of Meditations. 'We infinitly wrong ourselves by Lazines and Confinement. All Creatures in all Nations and Tongues and Peoples Prais God infinitly; and the more for being your Sole and Perfect Treasures. You are never what you ought till you go out of yourself and walk among them.' For Traherne this 'walking' among God's creatures was primarily a matter of thought and prayer, but it included actual, physical walking around the fields of his parish and the cities which he knew. This calling to praise which can unite us in ourselves and with one another in the human family, is a movement of appreciation and enjoyment which is surely vitally necessary to us if we are to learn how to cease from abusing and destroying the very fabric of the world in which God has placed us.
Donald Allchin
Donald spoke many times at our Festival including the first in 1991 at St Peter and St Paul, Weobley, his lecture being entitled, The Gift of Friendship. He went on to make us aware of the unpublished works of Traherene. In his introduction to Landscapes of Glory, he quotes one of his most favourite passages: We find one of the most beautiful of his meditations, a kind of extended rumination on the quality of love as a gift of the Spirit. Donald is very much missed.