In memoriam Denise Inge (1963-2014)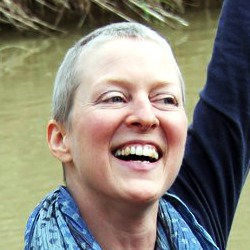 Denise Inge played a major part in bringing Traherne to the attention of a wider audience in recent years, but it is not only for her scholarship, but also for her infectious enthusiasm and willingness to share ideas that she will be remembered.
She was first introduced to Traherne as an undergraduate at Gordon College, Wenham, Massachusetts, and then gained her doctorate at King's College, London for the research that eventually led to her study Wanting Like a God, the first full-length study of Traherne that took account of all his most recently discovered manuscripts. Before this was published she had already edited two introductory anthologies that gave many of us the first taste of works that had yet to be published. The second of these also provided a 60-page introduction to the 'new' Traherne that emerged from his recently discovered writings.
Here are some of her insights about Traherne's understanding of childhood:
Traherne's admonition… is a call to a new beginning; this is about letting our minds be renewed and our desire be educated so that we see the world not so much as a child but as an adult who has been challenged by a child's simplicity. The clear call to unlearn – to become, as it were, a child again – may not be a call to abandon the responsibility of the adult at all, but to regain the ability that the child has to see through the phoney and peripheral to the heart of things… . It is about a return certainly, but a return to clarity of vision and clarity of desire. (Wanting Like a God, pages 248-9).
And here she is summing up Traherne's understanding of the universe by saying that he:
figures creation as that body that God has assumed to make himself as visible as it is possible he should be, and a love letter from God to humankind, his beloved' (Wanting Like a God, page 65).
Others who knew Denise better have written about her more eloquently than I can, and I draw to your attention Caroline Chartres' thoughtful obituary in The Church Times and Peter Atkinson's moving sermon at Denise's funeral.
We shall miss her, but are grateful for all that she has given us.
Richard Willmott